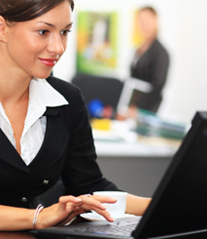 GES SOLUTIONS
---
Test Delivery
G.E.S delivers customized services to meet all of your needs, test distribution, administration, scheduling, registration, identity management, vouchers, and payment operations.
---
Test Distribution
We cover the most of test methods of computer-based tests, internet-based testing, based on client program specifications, questions bank, security level, test takers capacity, accommodations and locations.
---
Test Administration
- Our test administration operations set the global industry standard, and security protocols for test delivery, while providing 24/7 technical support.
- Our test system support audio and video components for all items modes include multiple choice, simulation, case studies, listing, writing, and speaking.
---
Scheduling and Registration
We are providing multi methods of registration, scheduling and reschedule process, using our test center network, and internet.
---
Payment and vouchers
- G.E.S offer many payment options including cash on delivery, vouchers and credit cards
- Vouchers can be ordered, maintained and distributed centrally, minimizing paper work and purchase transactions.
---
Security and Verifications
- Identity management systems, proctor walk-throughs, digital audio/video recordings and many of our processes are designed to ensure security.
- We offer variance solutions for ID's and check-in verifications protection using Digital Photos, signature and Biometric Devices.
- Practices, assessments and certification exams are required to certify the proctors and auditors, and that make us sure, only the certified proctors who's proctoring the exams.
- Test taker can print his score report from member's portal, on the other side the client can verify the test taker certificates through our verification system to be sure from the scores and results.
---
Printing and Shipping
- Our printing and shipping system help your organization to save effort, cost, time and reduce the printing fault.
- Printing system support multi types of Certificates, ID's, Tokens and Smart Cards verified by authorization code to ensure data integrity.
- Our delivery system, automatically calculates weight and fees of the shipment, and directly sends it to the candidate within 72 hr.'s. Using cash on delivery payment methods.