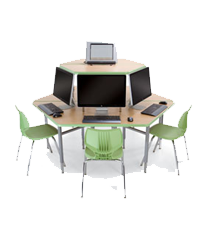 Mobile Site
---
According to our strategies to provide the highest level of services to maintain the confidence of our customers and belief in the value of time, we offer the Mobile Site Testing Solution, using our laptops and portal servers.
For more information and inquires please contact us: mobilesite@globalexamsystem.com
Note The facilities must provide the following requirements:
---
Reception and registration area
- Registration and Info Desk.
- Laser Printer (Inkjet not Supported).
---
Test Room
- The testing room must Air conditioned.
- Each testing workstation will be separated with a minimum of 5 feet (1.524 meters), if Workstations closer the examinee will stay one by one.
- The available desktop space at each workstation must be at least 3 feet (.9144 meters) wide by 2 feet (.6096 meters) deep.
- The testing room must be quiet and free from distractions during pre-determined schedule.
- The testing room and equipment will be dedicated to testing based on your pre-determined schedule.
---
Technical requirements
- 100 MBPS Switch.
- Internet Access Capability minimum of 256K per each workstation.
---